Netflix Original Queer Eye
| Season | 1 |
| --- | --- |
| No. of Episodes | 8 |
| Network | Netflix |
| Creator | David Collins |
| Release Date | February 7, 2018 |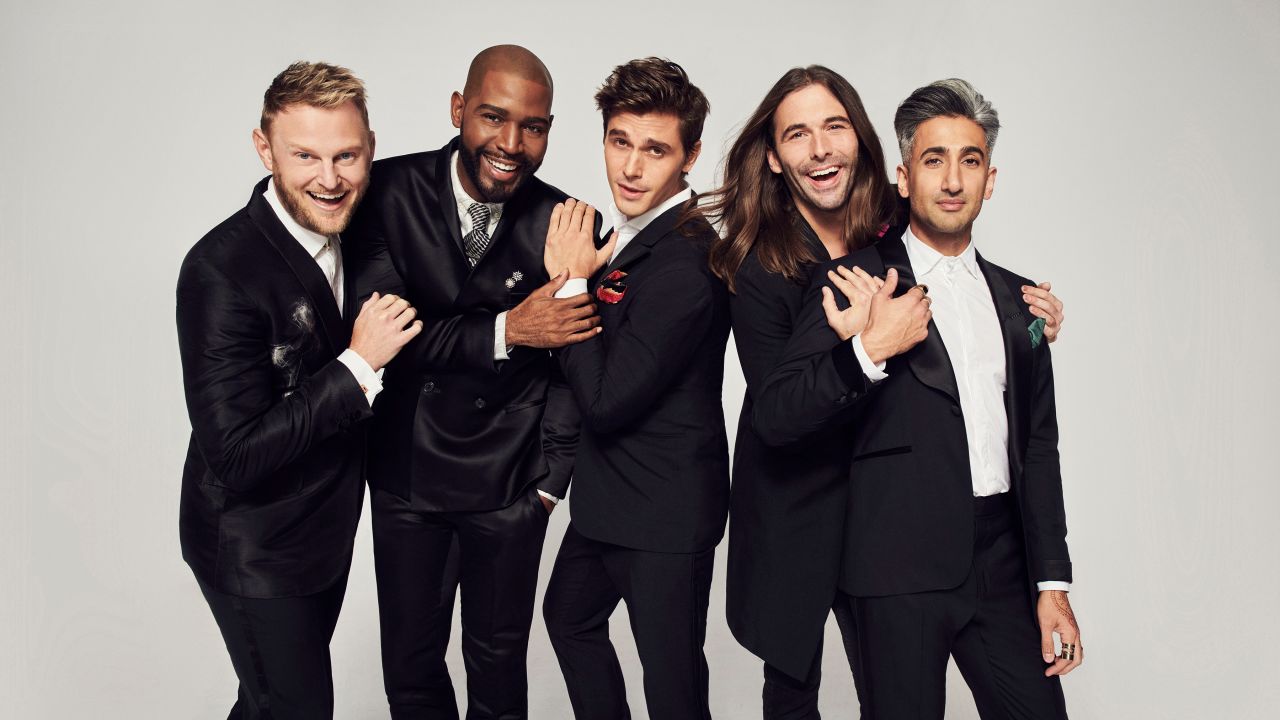 What's this?
Queer Eye is Netflix's latest venture into the reality TV universe. It is primarily based on Bravo TV's previous show of the same name. The show, just like its former, involves five gay men who take on the task of transforming the lives of dingy and seemingly monotonous heterosexual men. The fabulous five, all of which are professionals in their own area, such as grooming, lifestyle, and design, tackle their subject's lives by transforming their looks, eating habits, and living spaces. An intriguing choice for Netflix to revive a show infamous for representing gay men as fashion accessories, in an era that now puts great significance on political opinions of identity.
Okay, expand…
Netflix said in a statement, "In a time when America stands divided and the future seems uncertain, a team of five brave men will try to bring us closer together with laughter, heart, and just the right amount of moisturiser, The Emmy Award-winning Queer Eye is back and ready to Make America Fabulous Again." This statement surely reveals that Netflix actually wishes to inform audiences that this series is not intended to further stereotypes but rather celebrate diversity. With each episode tackling a new individual, the fab five get to experience new challenges. It goes much further than changing someone's clothes or trimming a beard or two. Queer Eye explores meaningful issues that include crucially low confidence and even social anxiety.
Sounds quite deep, I thought Queer Eye was meant to be lighthearted?
In the opening titles of Queer Eye one of the fab five, Tan the "Fashion Designer" states, "The original show was fighting for tolerance. We're fighting for acceptance". This much I can see, with the previous Queer Eye being an almost caricature of the gay lifestyle, this rendition proves to be anything but. Each of the fab five flow creative energy; their friendships and personalities certainly leave an authentic impression. This authenticity is vital to the impact that the show could possibly have on a modern audience.
Admittingly, the Queer Eye is a makeover show at its core, and it certainly has the qualities I have come to expect. Cheesy openings, cheesy cutaways, and even cheesier constructions did make me roll my eyes one too many times. The show is certainly light-hearted and feels good in nature. Everyone is laughing, everyone is having a good time, including when they venture to buy a mattress or cook a grilled cheese sandwich. Personally, the reconstructs ruin the authenticity shown throughout the main part of the series, lacking in subtlety and illusion. At the end of the day, the subjects are just normal people. They certainly won't be getting any casting calls for their acting anytime soon.
So the subjects aren't great actors, but what about the "Fab Five"?
Although all of the fab five floods the screen with their exquisitely optimistic personalities, I must say that the "grooming specialist" Jonathan Van Ness really stole the limelight. He has an infectious energy, hilarious quips, and confidence. He pretty much owned the room wherever he went.
Each cast member lends themselves to a different skill, style, and voice to the show, like a fashionable Mystery Inc. in a way, not exactly solving mysteries but certainly, they would compare one of their subjects to cave-dwelling Bigfoot. As I've said, Van Ness brings an outlandish and completely over the top personality, offering his subjects a hilarious distraction when they need it most. Bobby Berk is the polar opposite, whilst usually staying reticent. He offers a positive and pleasant presence throughout the series. In an interview with Radio Times Bobby explains, "I think we're really able to show people that, because of the fights, because of our struggles, we're really able to help other people with theirs because we can relate to that guy who doesn't think much of himself because we've been there." This compassionate statement certainly translates through his personality on screen.
And the rest?
Karamo Brown, the "Culture" specialist, is no stranger to reality TV as he starred in 2004's The Real World: Philadelphia. Brown brings confidence and clarity to his subject by offering life advice and acting as a guidance coach to ease their transformation.
Antoni Parowski is the fab five's cook, although seemingly has the easiest job of the lot as he only demonstrates one recipe per subject to make. I am left unknown to how that could improve someone's lifetime eating habits, but he is convinced that if you show someone "one simple little dish, it's a good way to light up that fire and get him excited about cooking."
Last but not least is the devilishly suave Tan France, the imaginative mind behind London's own women's wear company Kingdom and State. France demonstrates how to appreciate the finer things in life, by bringing elegance and decorum. France feels formidable and self-assured in a way that leaves his subject completely confident with the choices he makes.
Recommendation?
I would absolutely recommend anyone in need of a positive pick me up to watch Queer Eye. On the surface, the show seems to be the same old formula we've come to expect from a makeover series. In reality, Queer Eye is so much more. The fab five lend help to some really deserving individuals, with one person thanking the team for saving him from "a really dark place".
Yes, it's cheesy. Yes, it could be translated to be full of stereotypes. Realistically the men are very comfortable being authentically themselves. It all comes down to a group of men helping someone live a more fulfilling life. What's not to like about that?
Enjoyed reading this review? Then you will probably like listening to us too, so check out our podcast below.
[podbean playlist="http%3A%2F%2Fplaylist.podbean.com%2F1892537%2Fplaylist_multi.xml" type="multi" height="315″ kdsowie31j4k1jlf913="65c6d1509405e990354a2b159ed150d1bf07c702″ size="315″ share="1″ fonts="Helvetica" auto="0″ download="1″ rtl="0″ skin="9″]