Netflix Original Polka King 
| | |
| --- | --- |
| Director | Maya Forbes |
| Writer(s) | Maya Forbes, Wallace Wolodarksy |
| Rating | 12 |
| Release Date | January 12, 2018 |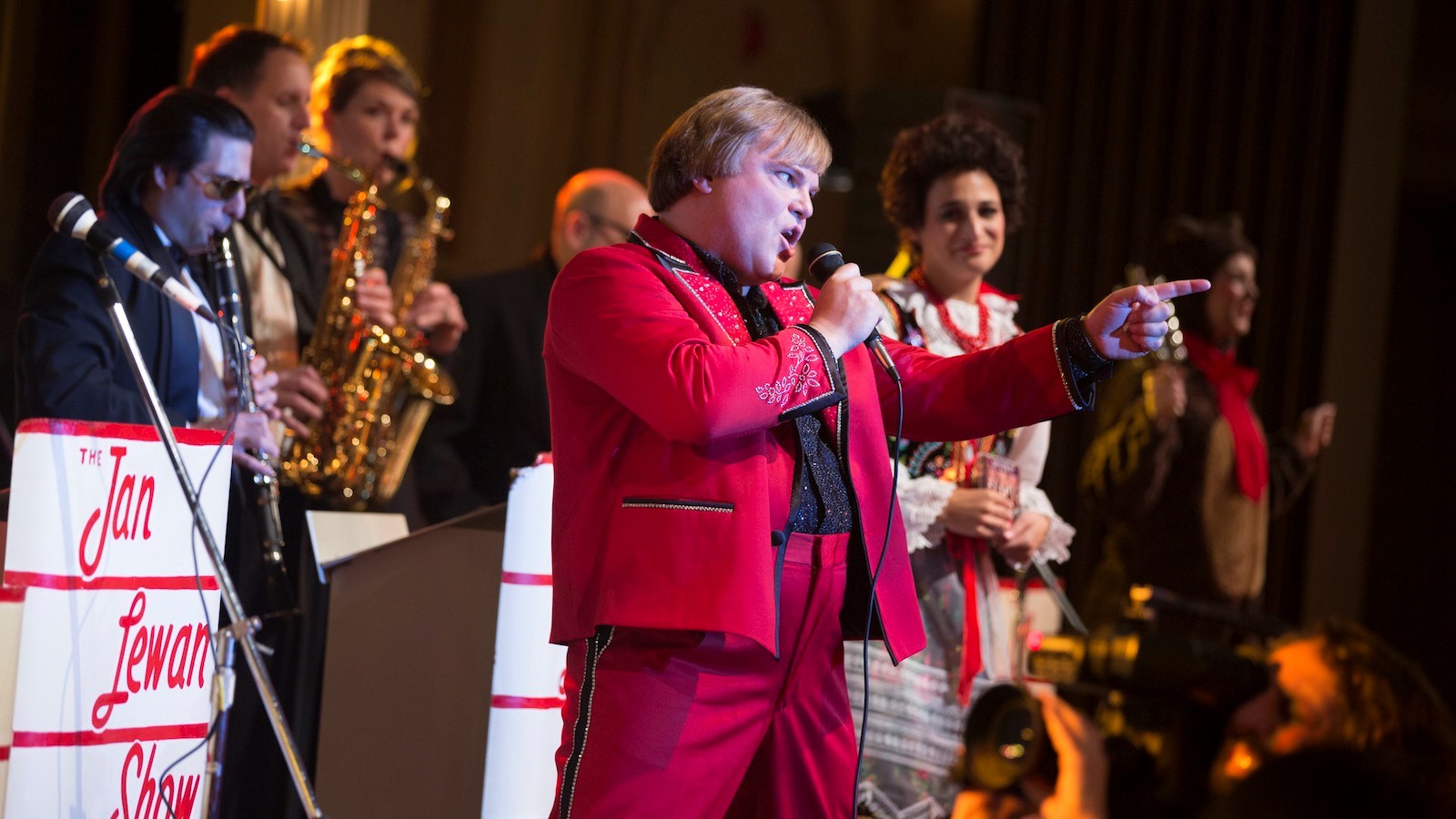 What's this?
Polka King is a charming ode to the completely bizarre and undeniably fanciful life of Jan Lewan. Based upon the 2009 documentary The Man Who Would Be Polka King, writers Maya Forbes and Wally Wolodarksy adapted Lewan's story to the big screen for the 2017 Sundance Film Festival. Netflix had been at the forefront of interest for this film and soon took the rights to the comedic biopic. It stars Jack Black as the legend that is Jan Lewan alongside comedian Jenny Slate.
Jan Lewan is a polish polka star, trying to find his way in the land of the free.  Alongside adoring wife Marla, Jan aims to bring himself the life he thinks he deserves. Jan begins to con his trustworthy elderly fans into investing ludicrous amounts of money to build his Polka empire. Marla, Jan's wife, and former beauty pageant winner, although supportive, also aims to experience the limelight in her own way. Both Jan and Marla are confronted with constant scrutiny from Marla's mother Barbs, who presents herself as the film's voice of reason. As fortunate as Jan seems to get (including a nomination for the Grammys album award) his good luck begins to run out very early on, leading for a fascinating retelling of what became of Mr. Lewan.
How does this utterly bonkers true story translate to the big screen? 
Biopics quite often struggle with the balance between representing the truth and putting on a show. Polka King achieves a proportional display of reality whilst also demonstrating the absolute melodrama that surrounded Jan Lewan's personal self and the self he saved for his audience. This was achieved by an artful combination of movie footage, cartoonish montages and handheld camera moments. The steady and seamless transitions from widescreen to documentary-style handy-cam shots was impeccable; this further reminded the audience that Polka King was based on a real person's life. Constant but steady reminders ensure that audiences alike can put themselves into Jan's shoes, and really take in the somber realities of how easy it is to be blind to taking shortcuts to your dreams.
How does the cast lend to the success of the film?
This screwball biopic stars Jack Black's performance of a naive, yet lovable Jan Lewan, an individual just trying to make his dreams a reality, a quest we can all be empathetic to. Jack Black brings a delightful and admirable humbleness to Jan's character; you can't help but appreciate the gumption Jan possesses no matter how wrong (or illegal) his actions are. An eager portrayal of a man we all know we shouldn't like, but thanks to Black's overt interpretation, Jan's legacy is left untainted and his reputation possibly better off post release of Polka King.
Jack Black is also joined by co-actor Jenny Slate who portrays Jan Lewan's wife, Marla. Slate's own translation of Marla is both wistful and comedic, with the former beauty queen constantly struggling in her husband's shadow. Marla battles to feel of any importance to the world, with constant reminders she is "just" Mrs. Jan Lewan and nothing more, whilst also battling with her mother Barb (played by a tantalizing Jacki Weaver). The portrayal leaves audiences feeling melancholy to her predicament but also amused by the caricature that is Slate's translation of Marla.
This review could not go without the mention of actress Jacki Weaver, playing Marla's very realistic and grounded mother. Weaver offers a refreshing contradicting personality, that serves as a breather for audiences from the "la, la" aspirations of the Lewan couple.
Was Polka King entertaining enough?
Polka King, although pleasantly enjoyable, does not show the characteristics of a film that will go down in history. Maya seems to focus on telling the story of Jan Lewan with finesse rather than panache. Including the smaller events in Jan's life was interesting, but I can't help but feel some of it was filler. Although arguably essential, I was left being distracted by my own thoughts rather than concentrating on the scene in front of me, as I lost focus a few times throughout as my attention was not held. Alas! No film is without fault. And although some parts (very few) are dull, the film is not without quirk and frequent laughs.
Recommendation?
I would recommend a watch of this film, as the cast absolutely make it. With Jack Black's jolly portrayal of Jan and Jenny Slate's audacious Marla, you are in for a charming few hours. Although flat in parts, overall this is a feel-good film. It lends a positive outlook on even the stickiest situations, leaving you feeling as though every tomorrow is going to be a better day than the one before.
Enjoyed reading this review? Then you will probably like listening to us too, so check out our podcast below.
[podbean playlist="http%3A%2F%2Fplaylist.podbean.com%2F1892537%2Fplaylist_multi.xml" type="multi" height="315″ kdsowie31j4k1jlf913="65c6d1509405e990354a2b159ed150d1bf07c702″ size="315″ share="1″ fonts="Helvetica" auto="0″ download="1″ rtl="0″ skin="9″]